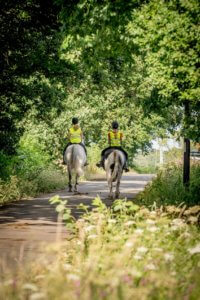 2019 has passed in a flash and so much has happened in this eventful year !
We completley resurfaced the arena and in the spring  and enjoyed a fun session of dressage and working hunter jumping in the open fields with Alex Fox – Mackinnon who kindly gave feedback. This year we had a wonderful  summer show for liveries in the yard with a record turn out. Several ride outs took place with refreshments  and home baking- which has developed a reputation for its yummy food after the event. Rachel kindly organised some spooky Halloween fun – why go out and pay for an event when you can have it here for free ! Lets  not forget the Blackfaulds Baubles teams who took part in the Christmas team jumping and the dress a shavings bale…….with some mind blowing results!
This year we had a shake up and brought in some fabulous new liveries who have the most positive outlook. It has been really great to see people getting the most out of their horses and just getting out there and having fun. We have genuinely loved hearing people laughing and being so cheerful. This year really  has been a case of out with the old and in with the new.
Its great to see people hacking out there  observing the importance of responsible riding – decked out in  high viz when the days are shorter. Winter seems to go on for ever but it doesn't stop everyone here for getting out and about on their horses whether its enjoying events, hacking and just spending time with their horses. The liveries at Blackfaulds make it a positive and happy place to be.