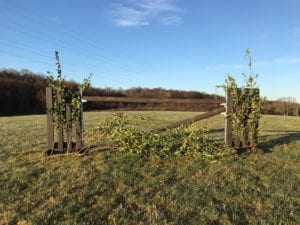 I think we can all agree that seeing the blue skies and sun shine does wonders for our well being. Well, we have all been making the most of this wonderful spell of fab weather. Conditions have been perfect for setting out  our full set of working hunter jumps in the fields. As well as schooling horses with grass under foot and jumping, people have had the opportunity to prepare for riding club and others have a developed a new found zest for giving cross country a try.
It has been a wonderful few weeks seeing so many people enjoying the benefits of galloping across the fields. With fantastic views looking towards Wallace Monument and Stirling Castle and Ben Ledi in the distance, what's not to love? Lots of our liveries have said that even just going to watch others has been a great stress buster after a hard days work, to feel the benefits of this tranquil space.
Our fields have been rolled and the grass is beginning to grow, now that the daytime sunshine has breathed warmth into the soil. As we begin to emerge from our long battle with the pandemic lets hope this optimism continues and we can be thankful for having equestrianism in our lives.