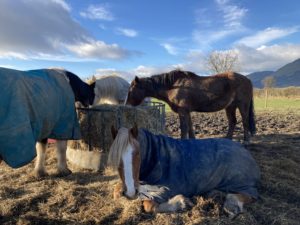 Seeing the sunshine in January certainly keeps us all in good spirits in the horsey world. I took this picture of our live out horses this week. I was struck by how contented they all were, as they basked in the winter sun. The fields have stayed remarkably green for this time of year. Although we endured a vicious assault from Storm Arwen, we were left fairly unscathed. There was a lot of disruption to our fabulous tracks around the Gartmorn Woods area, but Forestry Scotland have worked tirelessly to clear the tracks and am happy to report that all of the tracks are now clear again. Having some sunny January days and extended lighter evenings now has allowed some really great ride outs. I cant think of a better way to clear the mind, than riding through the wonderful countryside in some of the most incredibly peaceful surroundings.
Blackfaulds Farm & Livery has been a hive of activity this month. We are renovating our arena and it is going to be absolutely stunning once completed. We didn't anticipate having to renew the fencing around the arena but the workmanship being carried out is to the highest standard and everyone is buzzing to see the end result in the next couple of weeks.
General maintenance, small paddock creation and keeping an eye on the fields to ensure they aren't becoming too churned up, is our top priority this month. Here at Blackfauds Farm and Livery, Alloa we allow all year turn out.  This ensures horses are living as naturally as possible and keeping exercised and muscles stretching whilst outdoors is essential for good welfare standards. We simply don't have the problem of horses who are bored by lack of winter turn out here. We often see them clicking their hooves as they tank along the fields in delight and it is the most wonderful sight to see them, gliding gracefully along  with their tails and heads held high and blasting out a loud snort.
With fingers crossed, early signs are showing that we may be past the worst for covid. I know that having a horse to care for, ride and  and enjoy has been so beneficial for so many peoples mental health. I cant think of a better way to while away a few hours by being involved in horses. Having a few strands of hay in our hair and a pair of muddy boots surely  makes us all feel a little more connected to the natural world.