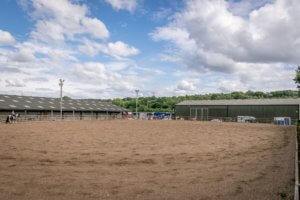 This pic was taken last summer when one of our liveries was investing a tonne of work into schooling her pony. She went on to have a very successful show season.  it is a lovely image of things to look forward to, as we are currently looking at the snow  covered fields and hills!
We were awarded our  British Horse Society approval for 2020 and are delighted that they recognise our commitment to mainating high standards of animal welfare and health and saftey. Its a no brainer for us, as a livery that we meet the standards to give people peace of mind that we are doing our best to ensure saftey is paramount in an environment where there are lots of risks.
We ere delighted with our visit from https://www.topspec.com   
The liveries at the yard do an amazing job of ensuring their horses are not too fat at the moment – which is a reall issue in the equine world and as the winter has been quite mild the grass has continued to grow.
Great to see the lighter nights coming and allowing us to get into the saddle after work.