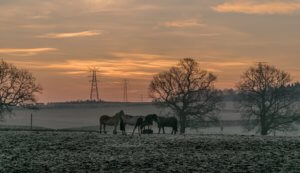 November has certainly made its presence known. Some very frosty starts to the day reminds of the long winter ahead. Its time to dig deep and hang in for the distant memory of warm blue skies.
Sharp frosts is great for killing the bugs but once the thaw starts we have the Scottish winter mud, which tends to linger at the gateways. Being vigilant for ailments is key, although touch wood, we haven't had too many issues to deal with.
We are fortunate to have some fab instructors who come for lessons throughout the winter in preparation for competitions/general hacking and schooling as well as there being tonnes of choice for competitions at our finger tips.
We have just had our annual fire testing checks. Our SEPA approved recycling system is bedded in and people in the livery are beginning to realise the importance of doing our bit for a cleaner environment.
Julia has just completed her tractor driving test to ensure we are up to date and using the machinery with the greatest of safety in the livery yard. Recently she also completed her child protection and well being in sport course. Keeping up to date with training is a priority as she works through her BHS stages in her spare time. Being a BHS approved yard certainly keeps us up to date with the rules and regs. Never are two days the same – which adds to the evolving nature of the livery business.