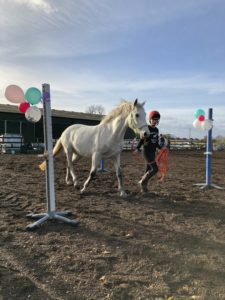 How lucky are we that we have reached November and apart from the odd miserable day, things are looking good. Winter grazing is holding out and the fields look remarkably green here at Blackfaulds Farm Livery. What a difference it makes to the care of our horses and ponies if we are able to have good all year turnout without really muddy rugs and horses feet caked in mud ! Lets hope this spell continues and fingers crossed for  some long dry winter days. Allowing all year turn out ensures horses are getting a great balance of fresh air and a chance to keep stretching out their muscles in large paddocks, with the added bonus of good hedgerows for shelter.
Our ability to access a huge network of tracks ensures we are able to keep variety and interest for rider and horse. We are one of the luckiest counties in Scotland to have these routes and they are all so accessible from our yard with no road work apart from two crossing points to the Gartmorn Woods and dam area.
A few years ago the council erected a pegasus crossing with holding pen to access the Devon Way which again offers a variety of tracks and onto the Devon River Trail.
The home grown haylage and hay crop which was harvested in excellent summer conditions means the horses can enjoy top quality hay made specially for horses with timothy and ryegrasses, which we selected  by discussing with our seed merchant specialist, Alison at  https://grassseeddirect.co.uk who is always on hand for up to date advice.
We recently enjoyed a fabulous morning with Hannah from HW Equine Services which was an excellent spook busting session for picking up hints and tips on how to encourage horses and ponies to embrace any challenging things we see whilst out and about. See HW Equine Services fb page for further information on how the day went. There was a wide range of items including balloons, pool noodles and a tarpaulin tunnel which was interesting in the windy conditions! Perfect for those who enjoy hacking as well as competing. Thanks for your input, Hannah. We will definitely arrange another session soon. Its amazing what you can come across when out and about on a hack.