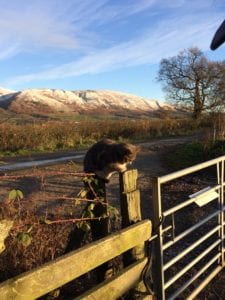 As we tough out the harsh winter weather, we will always have some lovely horsey things to look forward to. Even when we cant get out and about like the way we are used to, we can still come up and spend quality time with our horses and ponies and enjoy the fabulous tracks for a hack. As much as we wish the winter away, there is always much anticipation of having spring to look forward to when the ground dries out and we can have a good gallop to blast away the cobwebs.
The British Horse Society played a key role in the Land Reform Act of 2003, which has allowed all users of the tracks far greater access. We in Clackmannanshire are particularly fortunate with our pathways. Having attended several online meetings with other horse riding groups across Scotland – we are lucky to have such a wide variety of hacking directly from Blackfaulds Farm Livery. It is all too easy to take it all for granted.
With lockdown meaning more people are accessing the tracks – there has been a huge increase in litter being strewn everywhere and sadly issues with out of control dogs are sharply on the rise. We are lucky to have a load of responsible riders who know how to ride along the tracks and be courteous towards all users. You can visit the Clackmannanshire Riders Access Group fb page to see how riders promote health and safety when riding in the local area.
Tommy our very cheerful resident cat is pictured here and is very much part of the Blackfaulds family. He is a true character and welcomes everyone who comes onto the yard. I'm sure he is looking at the snowy hills, looking forward to the springtime too.