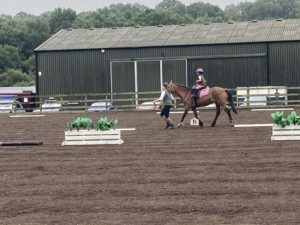 What a busy summer it has been here at Blackfaulds Farm Livery. As restrictions have eased our clients have been chalking up a wide ranging list of activities to develop their horses skill levels. We had a games day challenge at the start of summer with sun fun things to do whilst on horseback. The selfie wall was a big hit for the riders although the horses weren't particularly impressed by it !
Thanks to everyone who organised and took part in the dressage day. It was an exceptional event with a lot of careful thought  planning from the arena prep to exact measurements to mark out the correct sized space. From our budding young riders to those with a fair amount of experience, everyone had a ball. It would be rude not to mention the famous Blackfaulds spread with the to the wonderful home baking…what a talented bunch of people!😊
The show jumpers have been setting out a course of jumps in the arena regularly over the summer and are such a supportive crowd who enjoy the thrill of jumping.
The fields have held up well and our liveries have the luxury of using the wide open space in the fields from all sorts of things such as schooling work, having a pop over the working hunter fences to just having a gallop in peaceful surroundings.
We have been maintaining the fields, picking out the ragwort and people are dung clearing to keep the fields clean and healthy for our beloved horses and ponies. The work keeps rolling on but it has been great to see people making the most of our facilities and having fun.