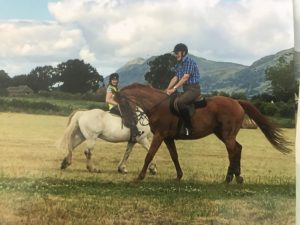 with some sunnier days we have been busy rolling out the fields to stimulate good grass growth for our paddocks. We gave the hay fields a good dusting of fertiliser which has paid off as they are looking magnificent with  lushness in a vibrant shade of green. They have been rolled and tilled and with the warmth and sunshine are looking promising for a good hay crop for our horses late in the year.
Many of us have been getting back in the groove with the plethora of competitions to chose from. Being in such a good location with easy access to a wide range of equestrian venues leaves us spoilt for choice. Whether dressage, eventing, organised ride outs or show jumping is your thing , competitions are only ever a stones throw away.
The photo above was taken some time ago but remains a favourite of ours. Julia is having a blether with one of our most inspirational customers who has remained fit and agile and has a deep love of horses. Always there to pass on his knowledge and wisdom as well as being keen to help others makes him a favourite person at the yard. Can you imagine you will still be riding well into your 80s. Isn't it a wonderful thought ?