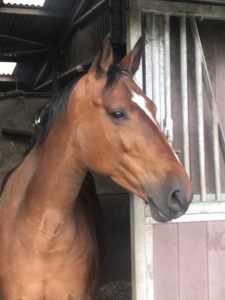 As winter has descended upon us and the night have drawn in, we all need something to escape from in these dark times. It has been impressive to see how people have adapted in the equine world. Who knew we would be  filming dressage tests for online competitions? But as always, we are a resourceful bunch and remarkably adaptable. Thank goodness we have not had devastating restrictions which could have impacted on the time we spend with our horses and ponies.
This pic was taken last summer of our lovely steed who was just fabulous – an absolute lady in every sense. There are some real health and well being benefits to spending time with horses and allowing us to have time out from work and the pressures of living through a pandemic. Here at Blackfaulds Farm Livery we have some of the best off road hacking in central Scotland and it is worth reminding ourselves of how lucky we are in Scotland with the access rights we have. Having said that ,there is a growing concern that access roles within local authorities, for example have been paired back too far. Being part of a local riders access group has never been more crucial. At our livery it has been great to see the arena being used for lessons, jumping sessions, dressage practice, lunging and schooling.
Maintenance  is always ongoing and we recently managed to get the hedges trimmed back which was a monumental task carried out by our neighbouring contractor, John Scobbie. We just didn't get favourable conditions at the right time of year last year but managed to take  advantage of a dry couple of days recently. We are so lucky to have fields with natural hedging – a fantastic source of shelter. As they bush out the eco system will continue and the hedges do such an important job of providing shelter for the horses whilst allowing the wildlife to flourish.
The fields always take a pounding with all year turnout during winter months but bounce back quickly with great field management by Kenneth and rolling them to stimulate new grass growth in early spring. We just want to wish everyone to stay safe and keep healthy through enjoying this fabulous hobby, country lifestyle and time out of what has shaped up to be a very strange year.